Description
Original AM3352BZCZ100 CPU For Antminer L3+ S19j S19j pro Control Board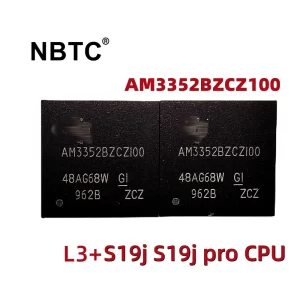 Applicable control board models: Antminer L3, L3+, L3++, A3, D3, S19j S19j Pro.
AM3352BZCZ100 is Antminer L3+ S19j S19j Pro control board CPU chip, a microprocessor that can bring advanced processing capabilities to simple circuits. The operating temperature range of the microprocessor is 0 °C to 90 °C. 1000 MHz is its maximum speed. It is a 32-bit processor.
Antminer S19j S19j Pro control board: The control board is composed of two circuit boards, an IO board and BB board, and is compatible with most Antminer S19j and S19j Pro models. This board has an SD card slot on the back, if your S19j miner doesn't have any SD card or micro USB slots on the front, you should use this combo board. When using the TF card to swipe, you need to open the top cover to see the SD card slot. The control board can be used to replace and repair faulty control boards for Antminer S19j and S19j Pro that are not working.
Official new Bitmain Antminer S19j

S19j Pro control board

, we supply Antminer S19j S19j Pro control board replacement spare parts. Suitable for replacing the damaged S19j S19j Pro control board, fast delivery speed, quality assurance. 
Bitmain antminer L3+ hashboard repair Spare parts kit. During the long-term continuous operation of the hash board, some components are prone to failure. For example,  T451 temperature sensor, the main control chip AM3352BZCZ100, the flash memory chip 29F2G08ABAEA, the BM1485 chip, etc. They are some vulnerable electronic components on the L3+ hashboard, and a low hash rate on a single chip will also result in a low or no hash rate for the entire hash board. Therefore, after the summary of professional repair personnel, to achieve fast and accurate maintenance, professional L3+ hash board maintenance kits can be used.
Shipped by DHL, the fastest 3 days
Notice:
1. We can buy other electronic accessories and IC accessories for you. You can tell us the product name and quantity you need,
2. We have a lot of parts, but not all of them are uploaded. If you don't find the model you need, you can contact us and tell me the parts and quantity you need.
3. Avoid damage or loss during transmission, please check carefully when you receive the parts. Please contact me immediately with any questions. Let's work together to solve this problem quickly!