Description
Original BM1397 BM1397AG Asic chip & Tin Tool FOR Antminer S17 T17 S17 Pro S17+ T17+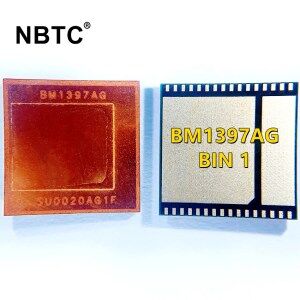 The BIN1 chip can replace all chips. The computing power, voltage and stability of different BIN chips are different. BIN1 is the highest grade.
BM1397 BM1397AG chip for S17 S17 + T17 + hash board repair chip replacement
The Antminer BM1397 BM1397AG chip supports the SHA256 algorithm, which can be used for BTC, BCH and other encrypted digital currency mining, and will be used in the next-generation SHA256 algorithm of the new Antminer S17 and T17. BM1397 adopts global TSMC FinFET technology, a single chip integrates more than 1 billion transistors, and has been continuously optimized in terms of circuit structure and low power consumption technology. The energy efficiency ratio of BM1397 is 30J/T. The high-quality Antminer BM1397AG can replace damaged chips on S17, S17+, S17Pro, T17, T17+ hash boards. Please note that we recommend that each Hash board only replace 5 damaged chips at most. Of course, Antminer BM1397AD and Antminer BM1397AI can also replace damaged chips of S17, S17+, S17 Pro, T17, T17+ hash boards. These three kinds of chips are universal and can be replaced with each other.
New official accessories, authenticity guarantee.
Notice:
1. We can buy other electronic accessories and IC accessories for you. You can tell us the product name and quantity you need,
2. We have a lot of parts, but not all of them are uploaded. If you don't find the model you need, you can contact us and tell me the parts and quantity you need.
3. Avoid damage or loss during transmission, please check carefully when you receive the parts. Please contact me immediately with any questions. Let's work together to solve this problem quickly!